Strawberries are wonderful little globes of goodness; they are chock full of nutrients, are immensely delicious, and are versatile to boot: you can eat them as they are, or add them to a number of tasty desserts. You can indeed eat the any which way you like, and you will still be getting the goodness in you. However, like everything else, it is to be remembered that you should not eat strawberries willy nilly, and that maintain the right amount and the right time while ingesting them. As you should well know, too much of a good thing can have adverse effects, and it is the same with strawberries.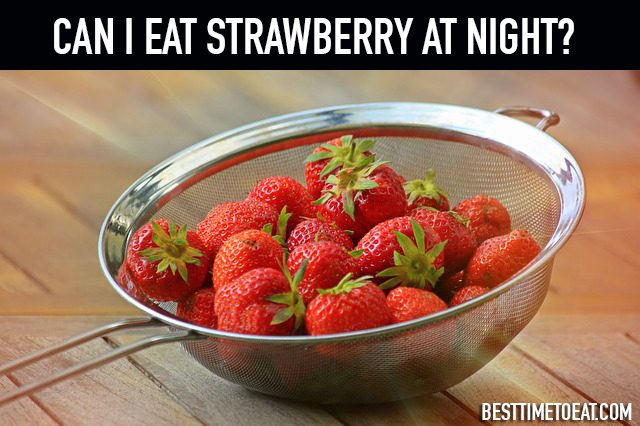 Any time is good
However, all said and done, strawberries, and indeed any kind of berries are good to go any time of the day. If you eat a cup full of strawberries, with a generous helping of mixed berries thrown into the mix, you will set back up to 3 calories each day, and in the healthiest and tastiest way you can imagine. So, they act as great snacks. Pack some strawberries with you to dig into every time you want something to munch on, or feel your sweet tooth making itself known, and you will satisfy all your cravings without ingesting any unhealthy calories.
After dinner snack
Strawberries are very good as an after dinner snack. They contain ample amounts of sugar, which makes them a little dangerous to be eaten by themselves in large quantities. However, if you offset the sugar by adding chopped strawberries into your oats and yogurt, or in a smoothie with a variety of different fruits, then you will be eating a filling dessert that will keep midnight hunger pangs at bay quite effectively.
Keeps hunger at bay
We all feel the need to end the day on a sweet note, and strawberries are ideal dessert options. They are very healthy with ample nutrients, and are sufficiently sweet and sour to match any palate. Eat them by themselves or dip them in cream, or make a fruit salad with generous helpings of different kinds of fruits and nuts, and you will have the perfect dessert to much on after lunch and dinner. And they are especially good when you want to make your cakes and ice creams less sinful; add generous helpings of cut up strawberries to the preparations, and you will be indulging in delicious and less sinful desserts.
Boosts immunity
Strawberries are a particularly beneficial addition to your diet when you are recovering from an illness, since they contain high amounts of vitamin C and are therefore immensely effective in boosting immunity. Even if you have a simple cough and cold, try adding a couple of strawberries to your daily meal plan, and see your health improving miraculously. The body heals at night when we sleep, so a cup of these fruits will do you good in such circumstances.
Even with the wonderful strawberries, it is essential to understand your health situation before adding them to your diet. In case you have a history of allergy to these fruits, it is wise to avoid them altogether, because you will be able to reap none of the benefits. It is also infinitely better to eat fresh strawberries while they are in season than the frozen versions, and you should always steer clear of preserves, flavorings, jams and jellies, and sauces and syrups, since these are highly sugared and contain an inordinate amount of preservatives.