Corn has been around since centuries. Nearly every civilization, and now nearly every country has its own version of corn dishes. Today, you will find a lot of debate going on about the benefits of corn, or the lack thereof. It is indeed true that there is some amount of dubiousness surrounding corn; it is not quite as low in calories as other healthy vegetables, say spinach. All said and done, however, we do know that eating corn is quite healthy, as long as you eat it in moderate proportions, and in conjunction with other fibrous foods such as lean meats and lots of vegetables. In this article, let us find out how and when we should eat corn to get the maximum benefits out of it.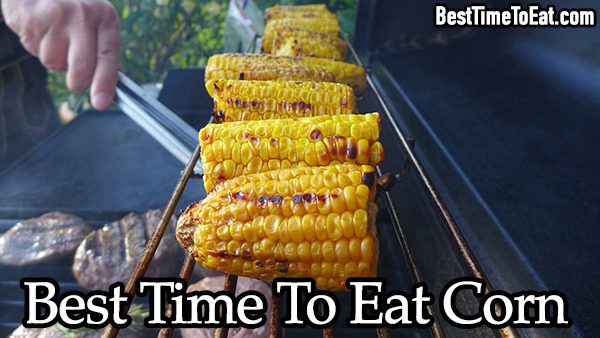 For breakfast
Corn is quite high in protein, and it also contains a lot of calories. As such, it is the perfect breakfast food since it helps the body regain energy after a long duration of fasting during the night. Eating corn for breakfast will provide you with ample energy, thanks to the high amount of calories, and you will be able to eat a larger portion as well, since the body would be using up the calories to produce energy and replenish its depleting stores of nutrition. Besides, the high amount of calories will also keep you full till lunch, and you will not have to reach for mid morning snacks, which are usually unhealthy.
For lunch
It is a great idea to eat some corn during lunch, albeit at a lower quantity than you had for breakfast. Research shows that our energy levels start to dip sometime around lunch, which is the time we need to eat some food to regain some of the lost energy. Corn is a great way to accomplish that purpose, given its high calories, low fat content, and richness in terms of nutrients. However, it is a good idea to not eat that corn by itself, but instead pairing it with some lean meats and healthy vegetables to make a wholesome, delicious, and filling lunch.
As a snack
Corn is filling and extremely nutritious, and what makes this even better is that it is very delicious as well. There is no end to what you can do with a handful of corn, so it makes for a great snack for kids and adults alike. Toss some corn and seasonal vegetables with some olive oil, and you have a healthy, delicious salad that is great as a summer snack. What's more, if you are feeling particularly health conscious right now, you can pack this in as lunch itself, and then have it for dinner as well. If you choose the correct vegetables, this salad will keep, so you can make a few batches and store them for future use.
Corn is a great source of nutrition, and there is no reason why they cannot be included in a daily diet. The controversy regarding this item can be attributed to the fact that it is quite ubiquitously present in all processed fast foods, and frankly, they are best avoided. But you can, and should, include fresh corns in your menu at least a few times a week.