Losing weight is not an easy task. It is even more difficult in our present lifestyles, which is mostly sedentary, fast-paced, and with hardly enough time to stick to healthy routines. Yet, rising obesity rates across the world, along with weight-related health problems attacking people every day, losing weight has become more than a choice; it is now a necessity. And for that, food must be regulated. Dieters and dieticians will vouch that it is just as important to eat at the right time as the right food. In this article, let us see when we should ideally eat lunch, the second big meal of the day.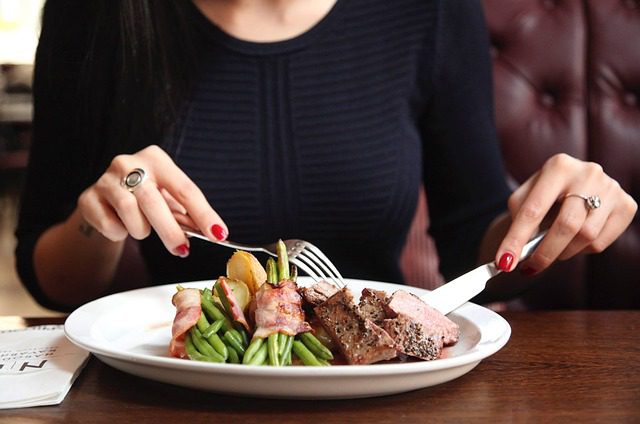 4 hours after breakfast
Ideally, you should maintain a four hour gap between your breakfast and your lunch. So, if you eat breakfast at around 9 in the morning, wait till 1 pm for your lunch. Eat a healthy, preferably home-cooked lunch with all the necessary components. Include a piece of fish or meat, with some carbohydrates and vegetables. Keep it medium light; don't make it too heavy like your breakfast, and don't go too light on it, like dinner. You still have half the day to spend and use energy on.
Twice a day
If you have led a rather indulgent life so far, then a small lunch will probably leave you yearning for more. That, in turn, will lead to the consumption of a lot more calories when you will eventually give in to your cravings and start snacking on unhealthy morsels of food between lunch and dinner. So, if you have just stated dieting, it is best to break your lunch down into smaller pieces; eat a little about four hours after breakfast, and eat the rest sometime before evening. This way, you will satisfy your hunger pangs, and not get any intake of unhealthy food either.
Before one in the afternoon
According to dieticians, the best time to eat lunch is sometime between 12:30 to12:45 in the afternoon. This is, of course, keeping in mind the four hour gap from breakfast, which means that the first meal of the day must be taken by 8 in the morning. There is nothing wrong with eating lunch a little before or after the stipulated time, but make sure you don't get too off.
Every day
Skipping lunch is not a good idea. Crash dieters often feel that skipping a meal or two prevents calorie consumption, but it only means that you will not be getting the important nutrients in a timely fashion, which will deprive you of the necessary energy to go through the day. Besides, you will give in to hunger pangs soon enough, and indulge in unhealthy calories. So make sure you get adequate lunch every day.
Lunch is an extremely important meal of the day. It is the mid-morning meal that essentially provides you with the nutrients you need to carry on for the rest of the day. Keep it medium light and healthy, follow it up with plenty of water, and make sure there are enough low-calorie snacks with you to curb hunger pangs.