So, you want to know what is the best time to eat amla? You are at the right place. Before we know the best time to eat amla, let's get to know what exactly amla is.
Amla's botanical name is phyllanthus emblica and Sanskrit name is amlaki. It is also referred to as Indian gooseberry.
Amla has innumerous qualities in itself ranging from being an excellent source of vitamin C, it consists of range of polyphenols which are known to prevent growth of cancer cells.
Amla is rich in fiber. It has antioxidant properties as well.
Talking about the taste of amalika, it has multiple tastes, although sour and astringent being the major and then sweet, bitter and pungent too.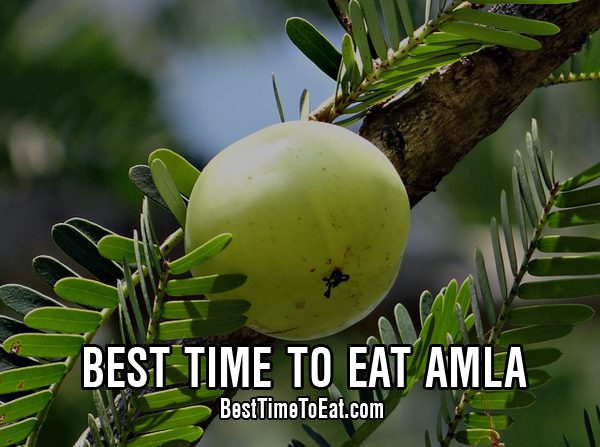 What is the best time to eat Amla?
Amla, if added into diet properly, can be immensely of great use. The benefits of amla if listed, the list would go on to be endless. The intake of amla varies from directly eating the fresh fruit or having it as juice. We can also eat amla as candies or have a hint of it in our diets as chutney or achaar (pickle). Amla powder is also available. As suggested by dieticians or doctors, amla can be consumed at any time. There is no fixed timing to have it. But advisable would be, if it is taken in the early morning while empty stomach. Mainly the timing varies according to the purpose we are having it for. For example, one way is you can dilute amla juice with lukewarm water and add honey to better its taste. It helps in reducing weight as well as this combination is good for the skin. If you are a diabetic patient, it would be a lot more beneficiary if you have amla juice with jamun (Indian blackberry) and karela (bitter gourd) juice. If you are having issues like high cholesterol level or hair loss, combining amla juice with aloe vera can make things a lot better. Amla juice is taken during the night before going to bed if you have problems with your eyesight.
Here is the list of benefits of amla:
Slows down aging
Cures sore throat
Fights against heart diseases
Prevents ulcers
Strengthens bones
Cools the body
Reduces risk of cancer
Makes skin glow
Helps in increase of hair growth
Helps in reducing arthritis-related pain
Amazing, isn't it? But, just like every coin has two sides to itself, everything has its both advantages as well as disadvantages. Anything taken beyond its limit can be harmful to our body. Some of the not so known facts about amla are:
Although amla is known to prevent constipation but if not consumed in controlled quantity, it can do the opposites.
Amla being rich in vitamin C, there is a chance it may cause acidity.
Amla although works as an antidote to diabetes but it may intervene with diabetes medication.
Amla is known for being natural coolant, that is it brings down the temperature of body. So, if you are already suffering from cold then it's better not to consume amla in this situation.
Over all, amla is a wonderful all-rounder fruit. Its medical benefits, combined with its versatility, make it a great option to be added to one's diet.
If you liked this post, please share with your friends and family too.